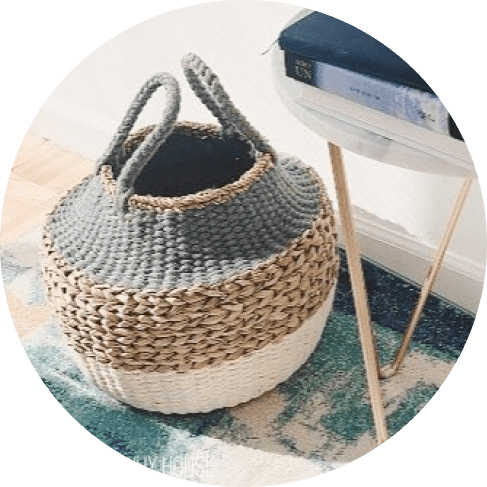 Ula Blue Foldable Basket
The *ultimate* multi-purpose storage solution, baskets are the unsung heroes of home organization. Designed to hold your must-haves while lending style to your ensemble, this basket is made from woven seagrass with a hexagonal silhouette. The color block design adds a modern twist, while the handles make it easy to carry this basket from room to room. Plus, it's collapsible, so it's easy to store it when you're not keeping things in it.
Support fair trade
Purchase with a purpose
Each bowl we offer is handwoven by one of our fair trade artisan partners who earns a fair wage for their work.
The fair payment they receive will not be reduced by traveling expenses, childcare costs, or haggled prices.
By purchasing handcrafted Ula Baskets, you support artisans in low-income communities and help to make education
and health care more accessible.
100% eco-friendly
The baskets are made with 100% natural raw jute and seagrass. These charming baskets boast the refined skills of our fair trade artisans, which have been acquired through many generations.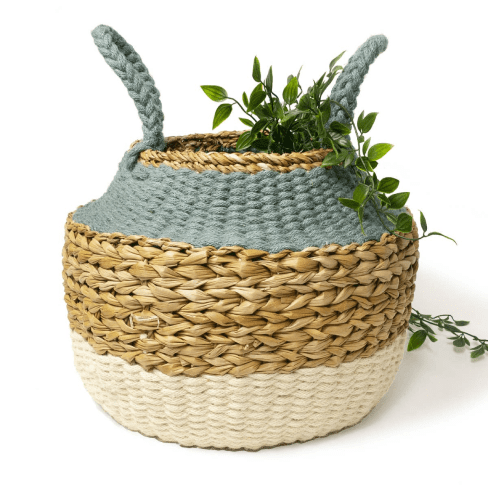 How to care
for Ula Baskets?
Dust or vacuum your basket on a regular basis, wiping with a damp cloth if necessary.
Dry properly after water damage. Be sure to keep out of direct sunlight, or color can change and fade.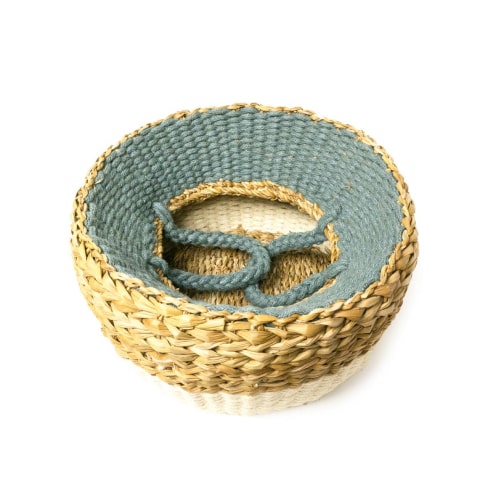 Take home organization to the next level
Smart ways to use Kata Candy Bowls
Bathroom storage
Toiletries tend to be bought in bulk, and are quite small in size, so it makes perfect sense to use these bowls to keep each type of things together.
Living room
Line Ula storage baskets on a shelf or tuck them below the furniture piece to stash books, magazines, DVDs and other entertainment needs.
Kitchen
Ula Baskets are helpful for organizing pantry staples and kitchen supplies. Add a label on the basket or the shelf so you can see contents at a glance.
Entryway
Your entryway is the first thing guests see when they walk into your home, so make it count. Use Ula baskets to store umbrellas, gloves.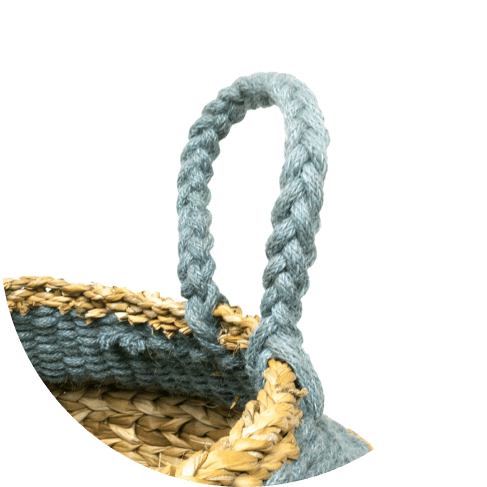 Ula Blue Basket Details
Material: seagrass & jute
Color: natural, white & blue
Size: approximately 10" tall x 12" round (bottom)
x 14″ round (middle) x 7″ round (top).
About KORISSA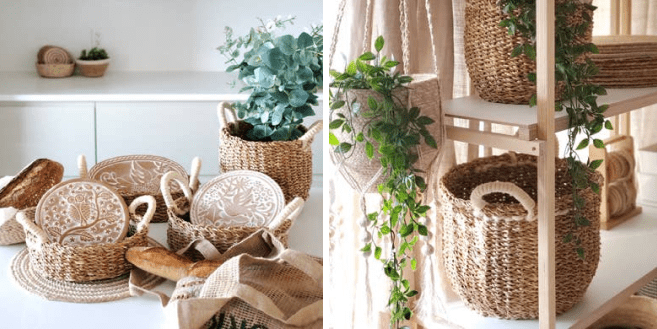 Nora and Angela, two designer moms from New York City, created Korissa to inspire consumers to shop consciously. They wanted to provide high-quality products that are socially and environmentally responsible. Purchasing any of the unique amazing handcrafted products supports and benefits artisans in low-income communities. Fair wages ensure that education and health care are available.